For Grace Link/Plus Models/Elite Models Look for this icon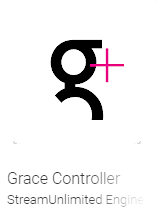 the radio and the phone or tablet with the remote app MUST be on the same network.
If it doesn't work for you, check the following:
Is UPnP is enabled on your router? Did the app ever work or is this a new issue? If this is a new issue, what has changed since it was working before. If you have a router that has dual band ( 2.4 and 5 gig) are your phone and radio on the same band. Most routers allow UPnP data across both bands but some may not.
Also while this is less frequent an issue if a customer has unique router settings / firewall settings the app and radio also cannot talk so in addition to UPnP being able ( which most routers have by default) you also need to have multicast and IGMP (Internet group management protocol) enabled.
Again both of those are typically enabled in the vast majority of routers hence we don't need to usually ask a customer if this is set up .. but these unique cases often the issue is UPnP, multicast or IGMP is disabled.